Surely on some occasion you have doubted when choosing your grinder to carry out a job. It is one of the most used tools for cutting metals, natural stone and ceramic materials, either with abrasive discs or diamond discs; but it also has more applications with other accessories such as: grinding, polishing, sanding and even making grooves.
But as always, to choose the right one, there are several aspects that you must consider. The size of the disk, the power, the type (angular or straight), the power supply (electric, battery or pneumatic) or the use that you are going to give it to choose the accessory; are some of them.
Do you want to know how to choose your grinder correctly? We will help you.
What types of grinders are there according to the diameter of the disc?
At STAYER we offer two types, angle grinders or straight (die) grinder.
Among the angle grinders we have:
Mini grinders that allow 115-125mm diameter discs, with powers between 700-1600 W. Its most common use is to work small surfaces that are difficult to access with other tools. In addition, thanks to their lightness and easy handling, they are the most used both for cutting metal and ceramic pieces, or natural stones of a small thickness. Specifically, the 115mm grinder can cut up to 30mm deep while the 125mm grinder can cut up to 38mm deep.
Mini grinders that allow 150 mm diameter discs. With powers between 1200 and 1600 W and are used when a greater depth of cut is required.
Or large grinders, which allow 230 mm diameter discs to be placed, although there are also other 180 mm ones. In this case the powers are between 2000-2600 W, and its use occurs in more intensive jobs and on large and hard surfaces.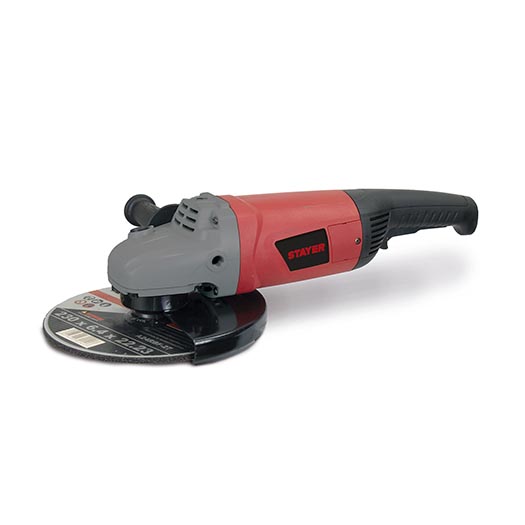 Straight (die) grinders, we can highlight its shape. Thanks to it, it is easier to work in areas where it is difficult to access with other machines. And compared to drills they are faster and more versatile.
Stayer offers:
The

SD 27 CE Grinder

, ready for use with rotary burs, corundum mounted grinding wheels, laminated fans, and wire brushes.
And the

SD 150 B Grinder

, which, unlike the previous one, is prepared for use with a 150 mm grinding wheel to grind weld seams.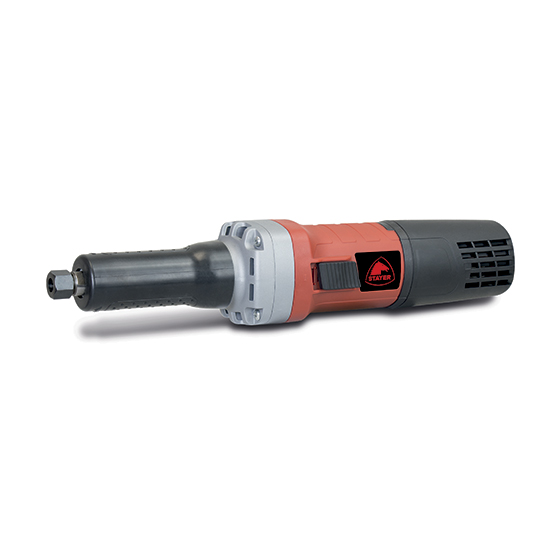 What types of grinders exist according to the power supply?
When thinking about the type of power for the grinder, it is important that you differentiate between electric, battery or pneumatic.
Electric grinders are the ones with the highest performance; and cordless grinders are ideal when greater autonomy and mobility are required, but the power is not the same as an electric one.
However, pneumatic grinders are quite fast and comfortable to operate, but they are used much more in specialized workshops and for specific projects.
We only have electric and battery-powered grinders; and the batteries we have are 18 V of power and 2.0, 4.0 and 5.0 AH of intensity.
What accessories can I use with a grinder?
As we mentioned at the beginning, the most used accessories with grinders are discs, such as: abrasive cutting and grinding discs for metals; or other characteristics for stone. But you can also put diamond blades to cut ceramic, building, corundum, marble, or granite materials. But other more specific ones such as: diamond crowns or wire brushes, can also be placed on angle grinders.
Guidelines and Tips for Using your Grinder Safely
When you use a grinder, it is essential that you consider a series of guidelines since, even having used it on other occasions, it can be dangerous.
If you want to work with peace of mind, follow these tips to know how to use your grinder correctly.
First, and as we always remind you, it is very important that you use personal protective equipment, in this case, goggles, reinforced gloves, a mask and hearing protectors.
When choosing the blade, be very clear that it matches the revolutions of the tool you are going to use, otherwise, it could break and, therefore, cause you some damage.
And, also, make sure that the grip and the disc protection cover are well positioned and anchored to prevent dust or sparks from going your way.
During use, to make it safer, stand in a good position and make sure that the blade is positioned correctly in the direction of the cut.
Hold it very well with both hands and use the auxiliary handle to prevent it from escaping.
Lastly, if you are going to cut at 90 °, make sure the blade is completely perpendicular to the material to be cut. However, if what you are going to do is rough, the angle must be between 30-45 °.
In this way you can be sure when choosing and using your grinder correctly. Therefore, it is time to put it into practice.