The reciprocating saw is a tool that facilitates the cutting of numerous materials, especially composite materials, sandwich panels and wood + metal, among others. One of the many advantages it has over a manual one is that the cutting time is infinitely faster, and, in addition, it facilitates access to narrow areas or cuts that cannot be accessed with other tools. But today we have not come to tell you all the advantages that it presents but the different reciprocating saw blades that exist depending on the material to be cut. Are you ready? Continue reading.
What reciprocating saw blades are there for each material?
As on other occasions, before you start cutting, you must choose the right tool and accessories. So, it is time to know the different types of leaf that there are and their differences.
Each reciprocating saw blade is formed with specific specifications so that the material is cut perfectly and there is no problem during its handling. Next, we will explain the four types of materials that a reciprocating saw blade can be made of.
Types of materials of which a reciprocating saw blade is composed
HCS blades are high carbon content and help cut materials like wood, PVC, laminate and plasterboard fast.
Meanwhile, the BIM sheets are bimetallic with a content of 8% in Cobalt. They are stronger than common HCS blades, making them harder materials. In addition, they have great flexibility in small thicknesses and cut metals or metal with wood.
However, HM blades are made up of Widia (hard metal) teeth. These are very resistant and therefore have a long useful life. They allow to cut brick, fiber cement, fiberglass, porous concrete and wood with metal, depending on the characteristics of your teeth.
And finally, the stainless-steel blades that are useful for cutting frozen materials and bones in which you need fast cuts and that the blade does not rust.
How are the teeth of it according to the material you want to cut
"And what are the teeth of reciprocating saw blades like?"
Depending on the type of blade and the material you are going to cut, the teeth can be sharpened and set; sharp or wavy milling; of smaller or larger Widia and space between the teeth.
In the following table we will give you a brief summary of each of them.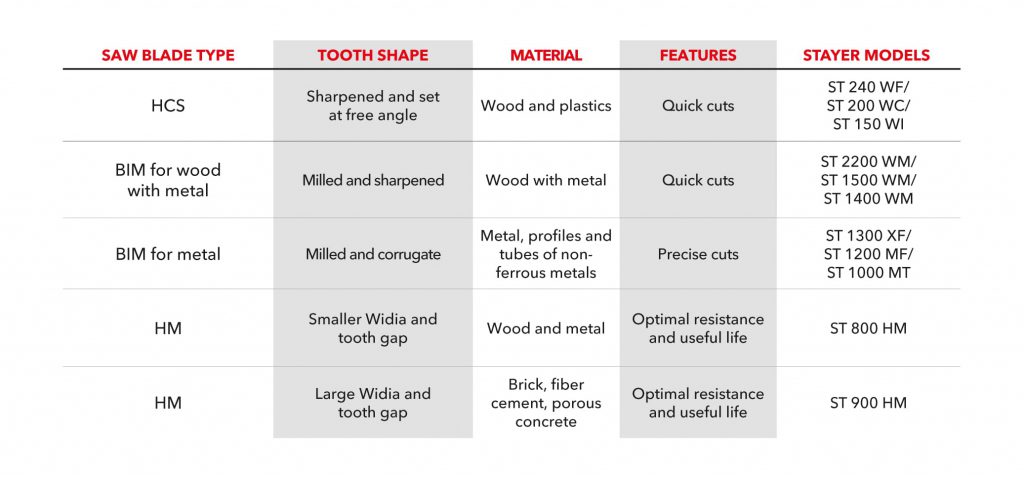 As you can see, we have several models depending on the use that you are going to give it. Later we will give you more detailed information about each of our models.
What are the differences between the teeth of reciprocating saw blades for wood and/or metal?
Before telling you the differences between the teeth of reciprocating saw blades for wood and metal, you should know that the teeth of the blades are measured in TPI (Teeth Per Inch). This term relates to the number of teeth the blade has for each inch.
From what we can say that, in the wood blades, the TPI is lower, and, therefore, there is more separation between teeth, favoring that the cut is much faster.
Whereas, in metal sheets, the TPI is higher because the teeth are closer together. There is a greater number and that helps the cut to be much more precise.
What are the STAYER reciprocating saw blades?
As we have shown in point 2, at STAYER we offer different models of reciprocating saw blades, each with different characteristics.
Next, we will explain in detail what they are.
ST 240 WF, is an HCS (high carbon content) blade, 240 mm long, and helps to cut wood and prune very fast.


ST 200 WC. In this case, the reciprocating saw blade is also made of HCS but is 200 mm long and allows greater cutting precision in all types of wood and PVC.

ST 150 WI. In the same way as the other two, its blade is made of HCS and is used for immersion cuts in wood and plasterboard.

ST 2200 WM. However, this saw blade is 230mm bi-metal and is used, among other things, for repairing pallets and cutting wood with nails thanks to its great flexibility.
ST 1500 WM. This model saw blade is bi-metal and is used for demolition and wood-to-metal cutting.

ST 1400 WM, like the previous ones, is a bi-metal saw blade but cuts wood, metal and plasterboard.

ST 1300 XF. This is also a bimetallic blade and is used to cut metal sheets and profiles. It has great flexibility to cut screws and pipes flush.

ST 1200 MF. In this case, it is a bimetallic blade, but it works for metal cutting and demolition cuts.

ST 1000 MT. This is the latest bimetallic blade model and cuts metal sheets and profiles.
ST 800 HM is a Widia tooth saw blade and is used to cut wood with metal and pallets.

ST 900 HM is a saw blade that, like the previous one, also has Widia teeth but in this case cuts hollow and solid brick, fiber cement and porous concrete.

Stainless steel is a stainless-steel blade and cuts frozen food and bones.

Do you already know which one to choose?
From here, choosing which is the reciprocating saw that best suits your job will be much easier; so, it's time to get down to work, don't you think?