As explained in a previous article, a die grinder has the great advantage of facilitating access to areas where other tools such as an angle grinder or drill cannot reach. Thanks to its reduced size, the accessory holder is located in the same direction as the spindle and it does not have an auxiliary handle, it is easier to reach every corner. But this is not its only advantage since due to the clamp incorporated, it allows to attach a variety of accessories and, therefore, perform a number of tasks such as: grinding metals, removing burrs, sharpening or polishing materials such as wood or hard plastics.
Do you want to know in detail the applications of a straight grinder? I will explain it to you using our SD 27 CE die grinder model as an example.
What are the characteristics of the SD 27 CE die grinder?
As mentioned, its compact and ergonomic design together with its isolated grip area (7), makes it very useful to work in areas of difficult access where, for example, an angle grinder cannot reach, but what are the rest of the features it has? Let's see them.
The SD 27 CE die grinder has a powerful 750 W motor and as you can see in the image, starting from left to right, it is equipped with a collet (1), a fastening nut (2) and the spindle (3); so you can easily attach and adjust the accessories. On the side, an on / off switch (5) with soft start; so that the machine starts up slowly and does not reach its maximum speed until 2 seconds. And in the back, there is a 6-speed electronic regulator (6) so that you can adapt the rhythm according to your needs, reaching 30,000 rpm. In addition, it includes a tachometer so the speed remains constant and an involuntary actuation protector so that you can work safely.
What jobs to do with the SD 27 CE die grinder?
At this point you will ask yourself several questions «What can I do with it? Does it have the same functions as an angle grinder? Is it the same as the Multi Drill 130? » I will tell you no. It has many more applications than an angle grinder, which looks like the Multi Drill 130 but is not (I will explain this later) and as soon as you discover its versatility, you will not hesitate to add it to your group of power tools.
While an angle grinder is used for cutting or grinding, a die grinder is used to:
Grind and polish metals, hard plastics and woods.
Eliminate metallic burrs.
Eliminate and revise weld beads.
Sharpen or rectify ceramic materials.
Sand or polish paints.
Sand and polish cylindrical surfaces.
Carve grooves in screws.
Drilling metal plates.
But for you to be able to carry out all these tasks you need accessories that can be fitted without problem and that perfectly fulfill their purpose.
What are the accessories that can be attached?
The accessories that can be attached to this die grinder will depend on the application, the speed that it supports, the performance, useful life and capacity of the grinder that it has. Since, depending on the diameter, the material with which it is manufactured and the type of edge with which the accessory has been designed, these factors will vary.
And that is why it is essential to indicate these types of specifications in the accessories file since, if they are not met, they are likely to break easily.
Therefore, the accessories compatible with the SD 27 CE die grinder are: corundum wheels, flap wheels, carbide burrs and wire brushes with a 6 – 6.3 – 8 mm diameter shank.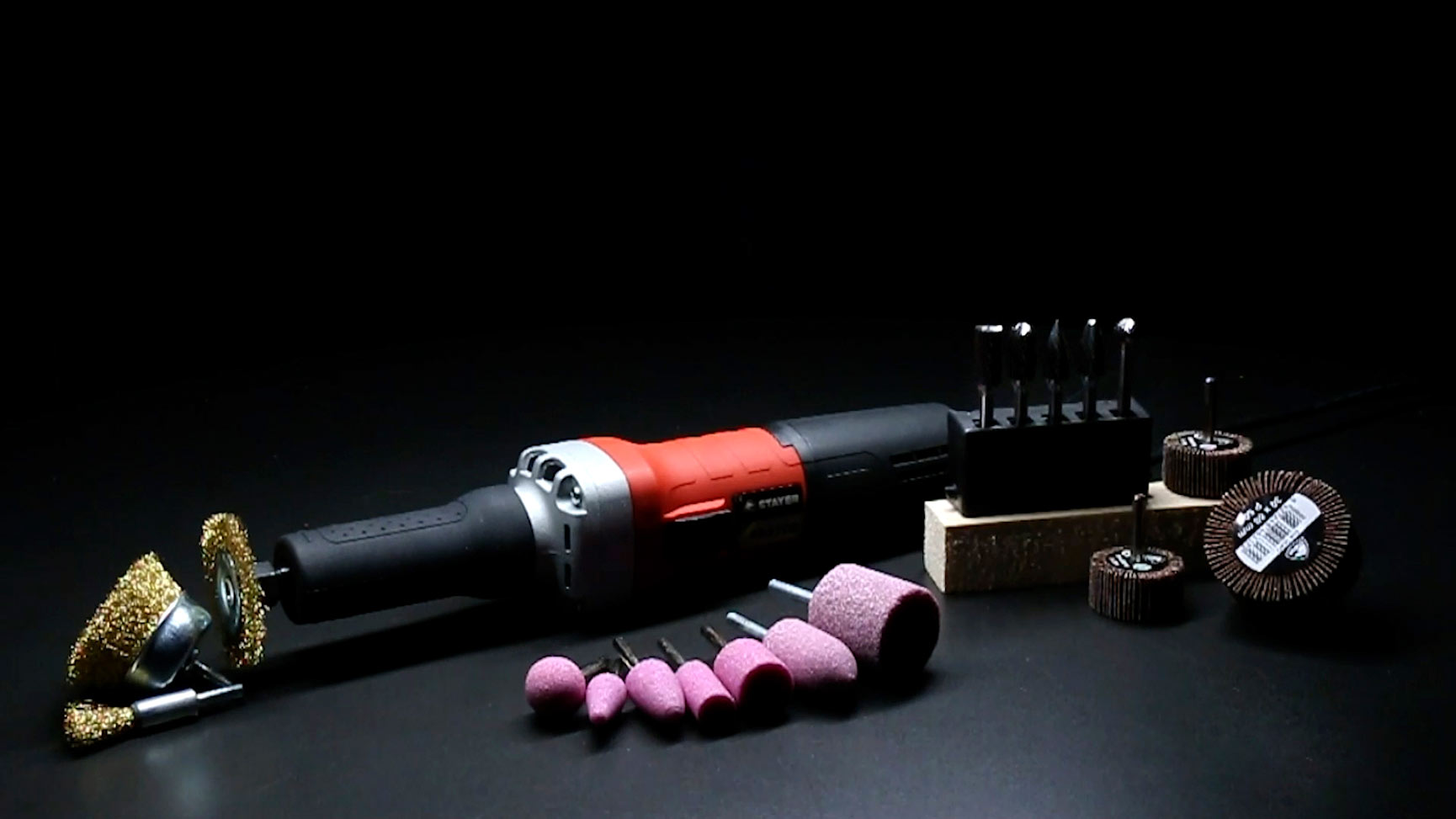 Although they seem similar, it is not a multitool like the Multi Drill 130 Stayer?
A very common mistake is to think that it is a multitool like the Stayer Multi Drill 130 model. They look very similar but the SD 27 CE die grinder is much more than that, it is a professional tool with a variety of applications (as I have explained before ) to work in tight spaces with difficult access, with a power of 750 W (almost more than double compared to other similar tools). However, the Multi Drill 130 multitool is more compact, with a power of 130 W and is ready for DIY work.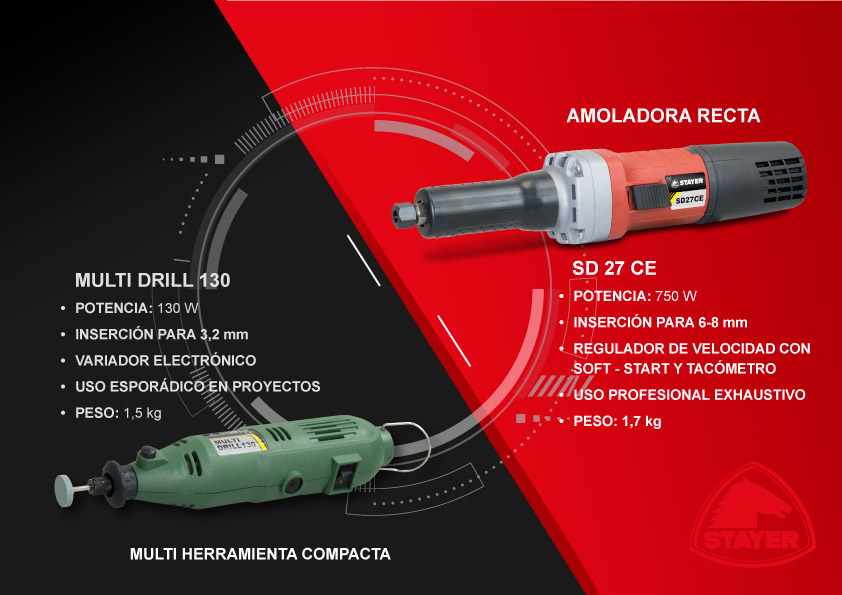 In short, the SD 27 CE die grinder is a very versatile and indispensable professional tool in your work
"The SD 27 CE die grinder is a marvel. It has a super slow start-up, the vibration in the hand is minimal, there is no inertial force that an angle grinder has, the sound is very poor, it goes through the material easily and it is used for many applications "
I already told you at the beginning of the post, once you test it you´ll realized that it is essential in your tool bench.
Do you want to see it in operation? Press play!