Abrasive discs cut or grind due to the abrasive grains that compose them. This is due to the fact that the binder (natural or synthetic), binds the abrasive grains with different strength to each other so that depending on the purpose of the disc, it has more or less hardness, speed or depth of cut; or roughing capacity.
Therefore, depending on the application you are looking for, there are different types.
Either by the tool that you are going to use (grinder, cut-off saw, pavement cutter, gasoline cutter or stationary machine); the material you want to cut (stainless steel, iron, stone); or the utility that you are going to give it (cut or grind); they will have some characteristics or others.
Do you know the difference between abrasive cutting discs, grinding discs and flap discs? Continue reading.
What are the differences between a cutting, grinding or flap abrasive disc?
The main difference between grinding, flap and cutting discs is that the first two are used to smooth surfaces, remove weld seams and grind edges; and the third to cut.
The grinding discs have a larger and thicker abrasive grain; and the depressed center to favor its resistant to the torsion, has less vibrations and a homogeneous wear.
While flap discs, are formed by several abrasive fabrics depending on the application, and their center is usually depressed when it is going to be used for roughing, although they also exist with a flat center.
However, the cutting discs have a smaller grain size, and a less concave or even flat center.


Finally, it is important to mention that, it is necessary that the grinding and flap discs must be placed at an angle of 20-30 ° with respect to the material, and the cutting discs at 90 °. In this way the cut will be safer and with a perfect finish.


What does the labeling of the abrasive discs mean?
As we mentioned at the beginning of the article, there are abrasive cutting discs (Extrathin or Standard), grinding discs and flap discs. So that there is no confusion to differentiate them, they have a label where the particularities of each are indicated.
Can you distinguish each of the indicated parts? We will explain you one by one.
Abrasive disc label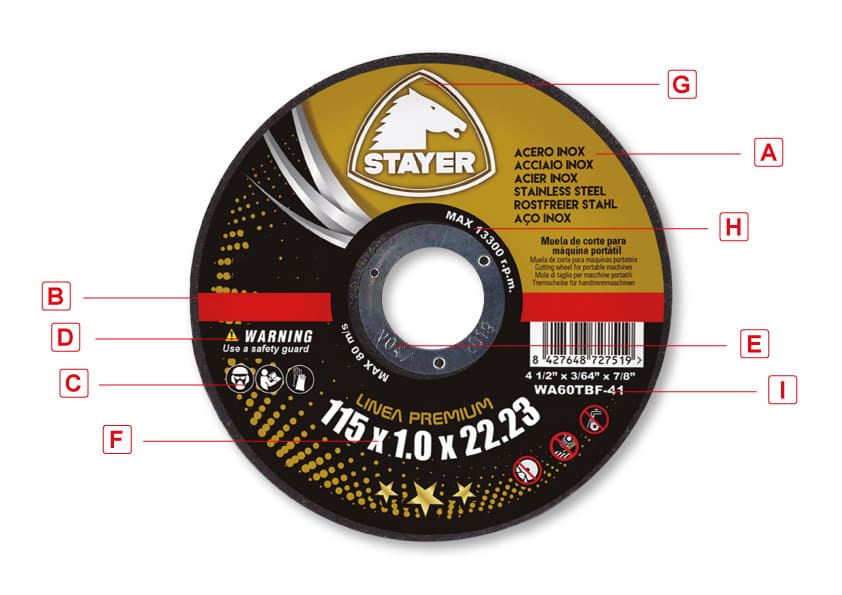 A: application. This can be for cutting or grinding INOX (stainless steel), iron or stone.
B: color of the band that indicates the allowed working speed. If it is red 80 m/s, if it is green 100 m/s.
C: safety pictograms that warn about the dangers that its use may have, and how to protect yourself to avoid any accident.
D: authorized use of the disc with security protection.
E: expiration date that indicates when the disk expires and therefore it is not recommended to use it.
F: dimensions of the disc that help to choose the machine with which to work. They can range from 125 to 355 mm in diameter.
G: registered frame of the producing company.
H: maximum number of revolutions per minute to which it can go (from 4400 to 13300 rpm).
I: technical details related to the abrasive material the disc is made of, grain size, disc hardness, type of binder, and disc geometry.
Technical details of abrasive disc

s

1. Disc material: white alumina or white corundum (WA), aluminum zirconium oxide (Z), aluminum oxide (A) or silicon carbide (C).
2. Grain size: coarse (20-40), normal (50-60), fine (60-120).
3. Disc hardness. That is, the bond strength between the binder and the abrasive grain can be soft grade (A-K), medium grade (L-T), hard grade (U-Z). The "harder" it is, the longer its useful life, and the "softer" it is, the faster the cutting speed. The degree of the mixture will be adapted to the application that is going to be given.
4. Type of binder: synthetic Resin-Bakelite (B), synthetic resin-reinforced Bakelite (BF), shellac or epoxy (E), oxychloride (O), rubber, (R), reinforced rubber (RF), silicate (S) or ceramic vitrified (V).
5. Disc geometry: T41 flat (on extra-fine cut-off wheels), T42 sunken center (on iron cutting wheels), or T27 sunken center (on roughing discs).
Well, at this point, do you want to know the models we have at Stayer? We will show you below.
What models we have in Stayer?
At Stayer we have abrasive discs for Standard and Extrathin cutting with thicknesses of 2.5 / 3.0 mm and 1.0 / 1.9 mm respectively; grinding between 6 / 6.4 and 7mm and flap discs from 72 to 140 fabrics, made of aluminum oxide, silicon carbide or zirconium.
Our blades cover diameters of 115/125/150 mm, perfect for use with mini angle grinders; 180/230, for large grinders; and 300/350, for cutting machines and stationary machines.
Within all the models we offer, which one we recommend
Extrathin INOX Cutting disc: for cutting stainless steel, high-strength steels and iron. Diameters of 115, 125 and 230 mm, flat center (T41) and composed of aluminum oxide and zirconium.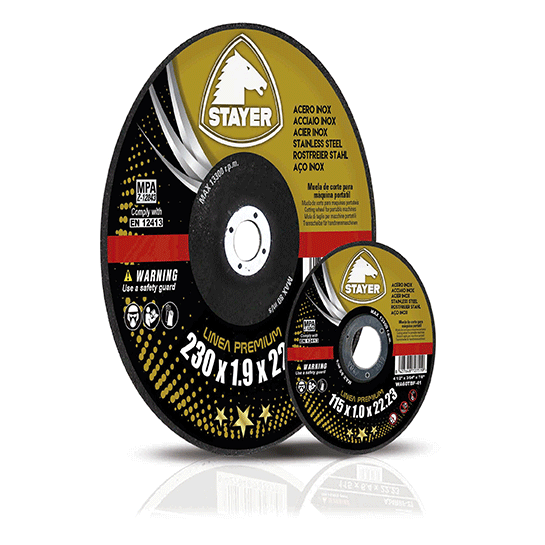 Metal Cutting disc: for cutting metal, iron and ferrous materials. Diameters of 115, 125, and 230 mm, depressed center (T42) and composed of aluminum oxide.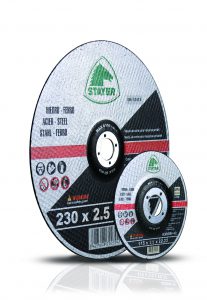 Stone Cutting disc: for cutting stone and building materials. Diameters of 115 and 230 mm, sunken center (T42) and composed of Silicon Carbide.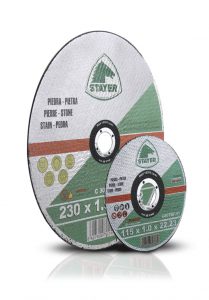 Metal Grinding disc: for cutting iron and ferrous materials. Diameters of 115, 125 and 230 mm, with a depressed center (T27) and composed of aluminum oxide.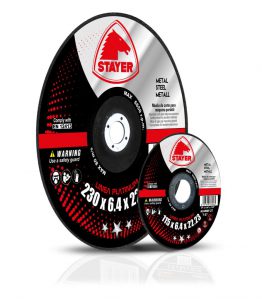 Procer Flap disc: for grinding all types of steels, weld seams, metal burrs, finishing and polishing operations. 115 and 125 mm diameter, 90 flaps for a high-quality, high-performance finish; and composed of aluminum oxide and zirconium.
If flap and grinding discs have similar functions, which one should you choose?
As you have seen, flap and grinding discs have similar functions, but what makes them different? The composition that each one has is different and, therefore, the finish is not the same.
Grinding discs are ideal when you don't need a fine and precise finish, and flap discs if you want a much more perfect finish.
Today, the trend in the market is for flap discs to replace conventional grinding discs. Until then, the ideal is to use grinding discs for hard grinding, and flap discs for finishing operations.